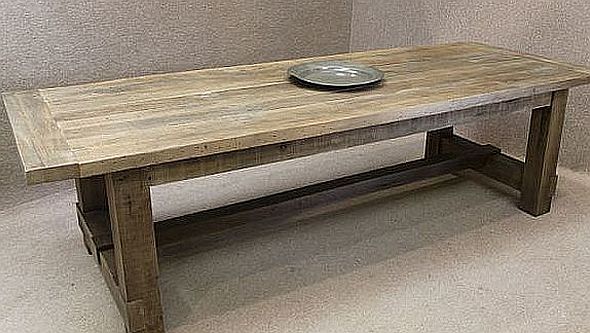 This reclaimed oak table is a fantastic addition to our large range of industrial style dining tables.
This beautiful reclaimed solid oak table has a plain and simple design, and is ideal for any large kitchen or dining room. This table is extremely sturdy and well made, and each top features unique character. It has a thick table top, large square legs and a traditional H stretcher for support; a truly substantial piece of furniture with a multitude of uses. This reclaimed oak table is available in two sizes, is in a knock down form, with delivery including assembly an optional extra. This is just one of our wide range of reclaimed oak tables, we have designs to suit all interiors from the most contemporary industrial design to traditional and country style room settings.
The chairs pictured with this table are not included in the price, but are available to be purchased separately.
This reclaimed oak table has been made using 100% reclaimed and recycled timber. Knots, uneven surfaces and join lines may be visible, however these markings add interest and do not affect the furniture. These markings are not flaws, but properties of the reclaimed timber.
A perfect substantial table perfect for any industrial interior.
For details about this reclaimed oak table or any of our items, please call 01543 375872
Reclaimed Oak table details: