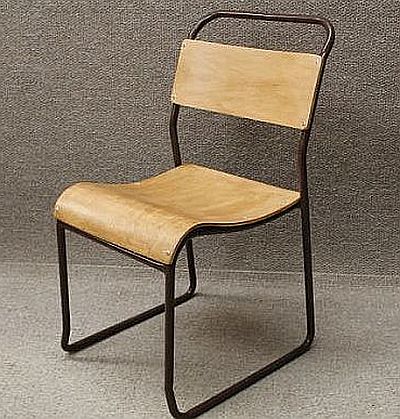 These old stacking chairs made with tubular steel frames which have been finished in a brown colour and plywood seats were very popular in Schools, Village halls, and Church halls from the 1940's. Ideal for interiors where space is limited as they can be stacked on top of each other, these old stacking chairs were very sturdily made for this reason. The shaped plywood seat and back provide very comfortable seating.
In recent months these old stacking chairs have made a 'comeback ' and can be seen in many fashionable restaurants, bars and clubs as well as adding original charm to any vintage or industrial interior. The are not heavy so ideal if you find yourself forever having to move chairs around. Whether used in churches, restaurants or the home, old stacking chairs are a popular seating option. Stacking chairs are, as their name explains, chairs that can be snugly stacked on top of each other. These chairs are used in almost every large venue where ease of storage and economical seating take priority. We have these chairs in a range of colours and styles.
The price stated below is for one old stacking chair but we do have quantities available, our friendly staff can answer any questions you may have and can be contacted on 01543 375872.
Old stacking chairs details: