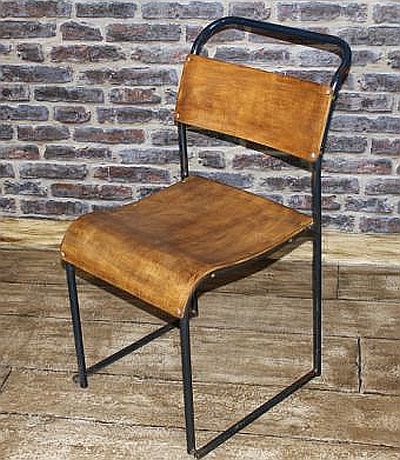 Just one of our wide range of traditional stacking chairs. These stackable chairs have a bent plywood seat and back set upon a tubular steel frame. A chair with  true vintage / industrial quality.
First appearing in the late 1930's these chairs were widely used in Community centres, Village halls, Schools, Hospitals and Churches, valued for their stack-ability. These traditional stacking chairs continued to be used throughout the decades and proved themselves to be sturdily built. In recent months these chairs have made a fashionable return in many cafe's, bistro's, clubs and restaurants. Long lasting and very well built, the tubular steel frame came in a range of colours and the plywood seat and back rest was steamed and shaped in order for it to be pot-riveted to the frame.
These particular traditional stacking chairs have been finished with a dark blue frame which complements the wide plywood seat and back rest. A very comfortable chair with the usefulness of being able to stack, perfect for those short of space etc.. To add authenticity to any interior these traditional stacking chairs are perfect.
The price below is for one chair but we do have a quantity available and can deliver throughout the UK. Call one of our staff on 01543 375872 for any information.
Traditional stacking chairs details: