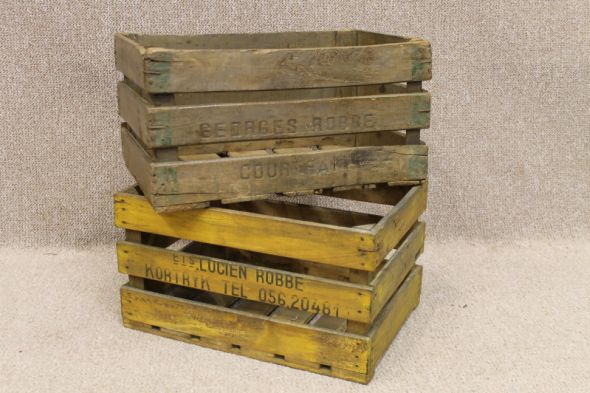 These wooden wine crates are a fantastic feature for a country kitchen or any pub or restaurant with similar interior and vintage retro furnishings. These antique wooden wine crates were originally wooden grape crates in the 1950's/60's and have been traditionally made. Some of the crates also have their original bottles. These old grape crates were originally used to collect the grapes during the Autumn grape harvest or 'vendange'. Plastic crates are often used today but some wine makers don't believe the wine tastes as good!
When stacked in groups these make fantastic storage, or they can be turned upside down and used as funky side tables
They are ideal for many uses such as in the garden to put plants in, or general  storage facility in any vintage home. The wooden wine crates are great for adding character to any interior with their old feel of a 1950's/60's look. The vintage  or industrial styling is very popular today and these wooden sine crates with their natural patina would add original charm and character.
The wooden wine crates are sold individually but we do have quantities available; please do not hesitate to contact one of our staff on 01543 375872 who can answer any questions you may have.
We also have other vintage wooden crates please see our other listings. They come in various styles and sizes.
Please note: the price listed is for one crate.
Wooden wine crates details:
This item is now sold.