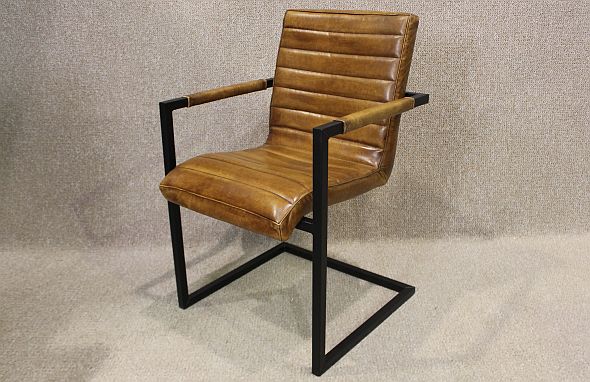 This unusual tan leather armchair with a steel frame offers a real alternative for any home wishing to achieve an original look. Just one of our new model leather chairs. The 'Haydock'  tan leather armchair with its modern steel frame  has an extremely comfortable seat featuring a stitched detail reminds us of a 1970's style, a modern twist on a true retro design.
The black steel frame complements the tan leather seat and gives an industrial appearance; a real mix of old and new.
These chairs could be used as both dining chairs or armchairs for any home office etc. Leather is a classic product and never dates, this tan leather armchair with steel frame gives a traditional chair with a vintage twist. Our staff are happy to answer any questions you may have about this chair or indeed any of our wide range of furniture, both Antique and reproduction.
A beautiful addition to our large range of quality antique and reproduction furniture.
We have more styles of both dining and armchairs available in classic tan leather. We also stock matching tan leather chesterfield sofas. Please see our other listings for more information.
This item is currently out of stock.
Tan leather armchair with steel frame details: