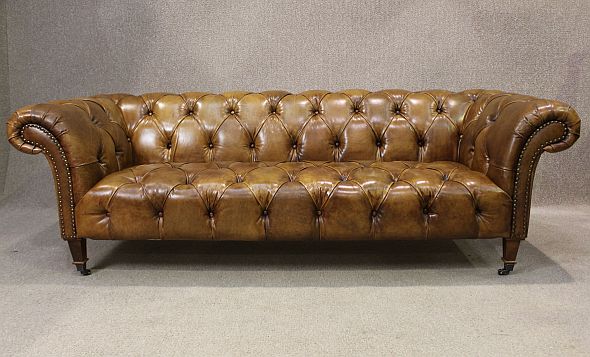 A stunning leather chesterfield sofa in a beautiful antique effect tan leather. This traditional style three seater sofa has deep buttoned upholstery and decorative studs to the front of the curved arms and stands upon tapered legs with castors for ease of movement. The classic elegant design will look magnificent in any home; perfect for any lounge, study or office. There are various ideas as to where the term 'Chesterfield' derived from, some believe that it dates back to the fourth earl of Chesterfield – Phillip Stanhope (1694-1773) who commissioned a piece of furniture; but whatever is believed the classic leather chesterfield sofa is a timeless elegant piece of furniture which has stood the test of time for many years.
When enquiring about this sofa please quote the 'Waldorf'. Our staff can be contacted on 01543 375872 if you would like any further information about this product or any of our listings.
This piece is just one item from our beautiful range of classically designed sofas and dining chairs. Please view our other listings for matching leather items to complement any interior.
Please be aware that this item is large and we will need ample access to your property in order to deliver this item.
Leather chesterfield sofa details:
Sorry these are now all sold