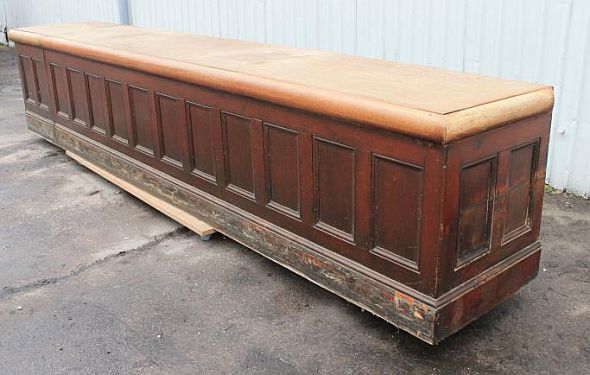 A unique and extremely large vintage shop counter. This imposing  classic shop fitting which dates fro the Victorian era features panelled frontage and sides. It also features a numerous amount of drawers with original handles. Sadly, there are four drawers missing, and one of these has been turned into a cash drawer.
This large vintage shop counter is in good sturdy condition, and has been removed from a large family butchers shop due to retirement.
The top of the counter is a 14 ft 6″ x 23″ piece of mahogany which is 1.5″ thick. The timber of this counter top alone would cost in excess of £1000.00.
This large vintage shop counter has a multitude of uses, and would be ideal as a shop fitting or kitchen work station.
This item has now sold.
Large vintage shop counter details: