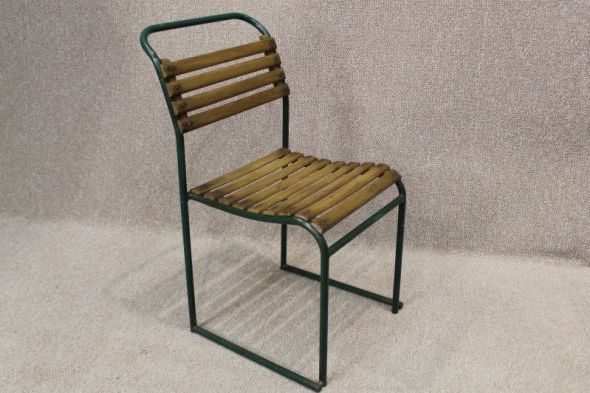 These wooden slatted stacking chairs have come from a large property. They were used for various garden parties and for spectators at a privately owned tennis court. These are a fantastic addition to our range of stacking chairs. They have a real vintage feel to them with a worn steel look and there classic slatted original teak seats. All chairs are in brilliant condition with their green tubular steel frames and original wooden seats. For a truly original vintage interior these chairs offer a retro funky feel, available as single chairs or in sets these unusual wooden slatted chairs made by 'Pel' offer unique charm to any property.
These chairs became popular in the 1940's,50's and 60's. they have stood the test of time for many years, a true testament to their sturdiness, and have made a come back in recent times. The stack on top of each other so allow for a number of chairs to stored in a small area.
Our friendly knowledgeable staff are always happy to answer any questions you may have about any of our items including these wooden slatted stacking chairs
Please note – the price stated is for one chair, but quantities are avialble
Wooden slatted chairs details:
These chairs are now sold.