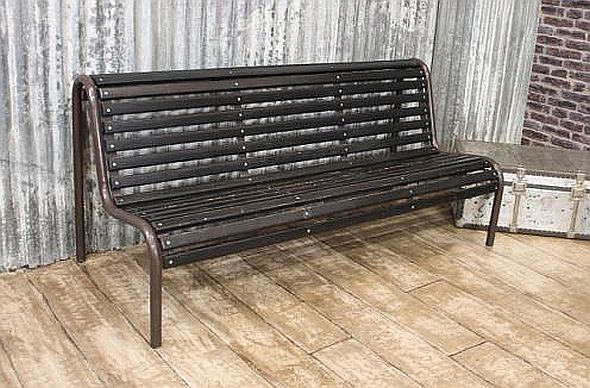 Vintage bench with curved ebonized ash wooden slats and tubular steel frame. A wonderful opportunity to acquire an original vintage bench dating from 1960's. We have seven of these benches available (all the same size). A very sturdy and comfortable bench which could be placed either inside or outside.
The vintage industrial style is novel as it is easy to mix with both contemporary and traditional styles. It can look good with brickwork, timber and metal. Its is very popular to furnish our homes and businesses with recycled furniture. The quality is excellent and this bench could offer many many more years of trusty service.
These extremely robust benches were originally from the British Science Museum and break down for transportation purposes. All the benches do have marks and show signs of wear and tear but have no serious damage and are in excellent condition for their age.
Perfect for many uses; this vintage bench would look superb in any restaurant, pub, club or industrial style interior; a real alternative to traditional seating.
If you have any questions about this bench or any of our listings, or require any further information, please do not hesitate to contact us on 01543 37587.
This item is now sold.
Vintage bench details: