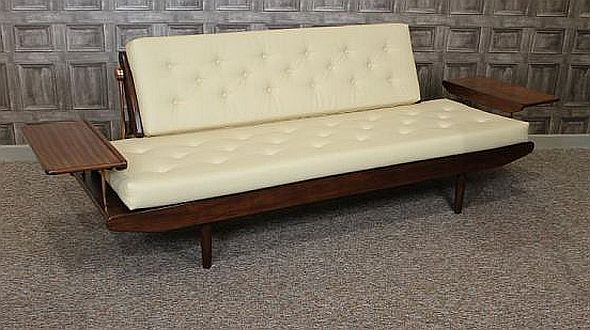 This teak sofa bed by Greaves and Thomas dates from the 1960s. It is in fabulous condition for its' age. This teak sofa bed is upholstered in a faux cream leatherette material which would blend with all interiors. Originally this sofa bed would have been covered in a fur material.
As this sofa converts into a bed if required, it is a very useful addition to any home. A classic vintage piece which is in outstanding condition for its age.
Teak furniture in Scandinavian styles was extremely popular through the 1960s and by the end of the 60s became the choice of the majority of the population. Today there has been a resurgence in retro furniture, this authentic sofa bed would add charm to any vintage interior.
We stock a wide range of vintage and industrial pieces; some of which would complement this Greaves and Thomas sofa bed beautifully. Please see our other listings for more details, or contact us on 01543 375872.
Teak sofa bed details:
This item is sold.